Top-ranked personal finance software
As we approach a new year, it's a great time to find good personal finance software to get control over your finances as part of your New Year's resolutions.

More >>

Top resume strategies for new grads in finance
With insight from experts and employers in the world of finance, we've developed some tips to help your resume stand out from all the others.
More >>

10 ways to change your spending habits to save big
Planning to save money can bring future peace of mind.
More >>

Hosting a holiday party? 5 tips to keep your workplace off the naughty list
Here's how you and your employees can minimize the number of problems while maximizing merriness.
More >>
How do hotel night auctions work?
Web-based services companies offer consumers coupons, discounts and price comparisons to allow individuals to pay the lowest price for hotels.
More >>
8 federal laws that protect employees
A push for employee rights gained momentum in the 20th Century, resulting in a series of important laws that millions of Americans rely on to this day

More >>

The best credit cards for holiday shopping
Now that you're starting your holiday shopping, you may be wondering which credit cards will give you the best advantages.
More >>

9 smart tax moves to make before the new year
A little prep now can minimize the pain of paying income taxes.
More >>

Top credit cards for airline miles travel
Free travel, free upgrades, free checked bags. Some travel benefits may be had just by holding an airline's co-branded credit card.
More >>

How to create the kind of life you want
©  


Your mother was right: You can't have everything. But that doesn't mean you can't have the kind of life you want, especially if what you want is both a fulfilling career and a rewarding personal life.
More >>

Alternatives to balance transfers
©  


If you're trying to get rid of high-interest credit card debt, transferring your balance to a lower-interest credit card, or even a card with a promotional 0% APR, isn't your only option.
More >>

Tips for finding affordable health insurance
There is some good news for those on a budget, however. The ACA provides more insurance options than before.
More >>

10 tips for cutting winter costs
Preparing for cold weather can help keep winter expenses manageable.
More >>
Say thanks with grace: 17 quotes to inspire
This is the time when short speeches, toasts, and gracious words are in demand. Be inspired by these words on thanks, joy, and gratefulness.
More >>
How retirement communities work
Choosing a retirement community is a big decision. Your choice will affect your – or your loved one's – finances, quality of life, and in many cases, health and longevity.
More >>

Plan to save this holiday season
Avoid holiday debt and New Year regret by planning ahead.
More >>
Tips on the health insurance marketplace/exchange
Whatever your political views of the Affordable Care Act of March 2010 (ACA) – better known as Obamacare – there's good news if you need to buy health insurance for yourself or your family for 2015.
More >>

Real-estate rents can fund your retirememt
Stocks, IRAs and employer-sponsored plans are fundamental aspects of many retirement plans, but they are by no means the only options.
More >>

8 alternatives to a credit card cash advance
Before choosing to take a cash advance,be sure you fully understand its cost and limitations – and have investigated alternatives.
More >>

Fixes for 5 common financial mistakes
Keep slip-ups from damaging your credit.
More >>
Savings needed to retire abroad
Living abroad is an increasingly popular option for retirees interested in a change of scenery, new cultural experiences, access to affordable healthcare and a lower cost of living.

More >>

The 4 worst reasons for a cash advance
A cash advance is a very expensive way to get money, and the risk of falling into revolving debt cannot be ignored.
More >>

Save money on holiday meals
10 tips to host a delicious dinner without going into debt.
More >>
Steps to buy a home
Whether buying a home for the first time, buying a second home or considering investment property, you should take steps to protect your investment and financial health.

More >>

How does a reverse mortgage work?
When people are younger and think of cashing in on their home equity, they imagine renting or selling their house. If you're at least 62 years old, you have a third option: a financial product called a reverse mortgage.

More >>

End-of-year car buying tips
Score a new set of wheels with less hassle.
More >>

Transferring credit card balances to a new card
Here are the steps you'll want to take before you actually transfer a balance from an old credit card to a new one and the steps for completing the transfer.

More >>

The top reasons behind the U.S. national debt
In essence, the national debt is the net summation of the budget deficits – a debt that the government owes as an indirect debt to the taxpayers.
More >>

The pros and cons of debt settlement
Four years after FTC changes, consumers still need to be cautious.
More >>
Where unemployment hits hardest
Whatever led to your current jobless state, unemployment hurts.

More >>

Flight insurance can take the worry out of flying
Booking a flight can take a sizable bite out of your wallet, especially when you're venturing to a distant part of the globe. Often, the last thing passengers want to do is fork over even more money to take out flight insurance.
More >>
Are you a target for identity thieves?
Identity fraud happens when criminals use someone's stolen identity (identity theft) to commit a crime, such as purchasing items with your credit card. It's not going away anytime soon.

More >>

Six things bad financial advisors do
A good financial adviser can add tons of value to your financial well-being and can enhance your quality of life.

More >>

Top 5 strategies to pay for elder care
Maybe the federal health insurance program primarily for men and women 65 and over, pays doctor and hospital bills for many older Americans. But it doesn't cover everything.

More >>

Coping with financial stress
5 ways to handle money worries.
More >>
Build your credit score
Getting your first credit card can be a challenge.
More >>

Traveler's checks vs. ATM cash: Tips for tourists
There was once a time when traveler's checks were almost as important to overseas travel as a valid passport. That started to change once branded credit and debit cards began to explode in the 1990s.

More >>

Which home updates tend to make back their money?
Do you want to revitalize your kitchen and bathroom this year? If you're planning to sell your home, these rooms will be major points of interest and need to shine.

More >>

Answers to kids' tough money questions
Smart ways to have the money talk.
More >>
Scare up Halloween savings
Halloween has quickly become one of the top consumer-spending holidays. The National Retail Federation estimates that Americans spent close to $7 billion last year on costumes, candy, decorations, pumpkins and more.
More >>
The best jobs for retirees
One of the pleasures of working in retirement is the chance to try something you may have previously been scared to do.
More >>

Retirement strategies for low income seniors
The financial crisis, now called the Great Recession, is fading from the minds of Americans, but many households are still feeling its effects.

More >>

What type of person needs a financial adviser?
Over the past few years much has been written about whether financial advisers really add value to their clients or whether investors are better off handling their own financial needs.
More >>

Avoid these 5 costly money-saving mistakes
Tips for maximizing your savings potential
More >>

Typical retirement expenses
Once people reach retirement age, their spending habits often change.
More >>

Protect yourself against identity theft
More than 13 million Americans were victims of identity-theft fraud last year. The number of victims has increased by half a million people since 2012.
More >>

Borrowing from your retirement plan
While most of us would rather not take money from our retirement plans until after we retire, we are sometimes left with no alternative.

More >>

Unlocking the secrets to a financially happy relationship
Fall is now second only to summer as the most popular time to tie the knot. However, before a couple says, "I do," it is important to first have a truthful heart-to-heart talk about finances.
More >>
Get a handle on medical expenses
Fast action can keep debt under control
More >>
Should you refinance your mortgage?
Weigh the pros and cons before deciding.
More >>
The importance of an emergency fund
4 reasons you need to start saving now.
More >>
Should you change banks?
Nearly 20 percent of consumers have considered switching their checking accounts to a different financial institution, a 2012 Consumer Reports survey found.
More >>

Job search do's and don'ts
7 tips for landing a new job.
More >>
Six financial steps to take when you move
How to avoid letting relocation damage your credit profile
More >>

Wipe out debt for good
4 keys to free yourself of credit card debt.
More >>

Five valuable credit report lessons
What you can learn from checking your credit profile.
More >>
Affordable family fun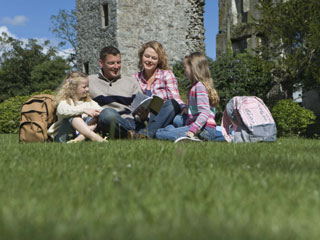 © Jupiterimages / BananaStock / Thinstock

7 inexpensive summertime activities.
More >>
Rebound from financial pitfalls
4 steps to getting your money affairs back in order.
More >>
Avoid vacation debt by staying home this summer – and still have fun
Make the most of a staycation with 10 local (and affordable) activities.
More >>

Save on moving expenses to stay out of debt
Seven strategies to cut relocation costs.
More >>
Make time for a mid-year money checkup
Now is the time to get finances back on track and dig out of debt.
More >>

Plan an affordable vacation without going into debt
Stay within your means and still have fun.

More >>

Plan a dream wedding on a dime
Say "I do" without breaking the bank.

More >>

Say good riddance to debt
When you factor in mortgages, car loans, student loans and credit cards, the average American is more than $225,000 in debt.
More >>

Tips for repaying student loans
Be smart about paying off education debt.

More >>

4 places to provide money lessons for youngsters
Schools spend a lot of time teaching children reading, writing and arithmetic. Unfortunately, math lessons rarely include a course on how to manage finances.

More >>

5 signs you are ready for home ownership
Owning a home is still many people's idea of the American dream. Yet purchasing a home still requires a major financial investment and a long-term commitment.

More >>

Test your money smarts
Take this quiz to gauge your financial IQ.

More >>

Investing 101
Market investment tips for beginners.
More >>

Secrets of debt collection agencies
It can be unsettling when a debt collector tracks you down and inquires about repayment. But owing money to a creditor does not place you completely at its mercy.
More >>

Cash in on spring cleaning
6 ways clutter-busting can save you money.
More >>

6 ways to cut child care costs
Ensure quality care at an affordable price
More >>

Save money with social media
Find discounts and deals on Facebook and more.
More >>

5 simple steps to creating a budget
A budget plays a vital role in helping manage your money, getting out of debt and staying that way. It is also a must for ensuring your long-term financial future.
More >>

Romance on a budget
6 low-cost ways to show your love this Valentine's Day.
More >>

5 things you need to know about the Affordable Care Act
Learn how health care reform may impact your finances.
More >>

5 steps to protect your credit
Recent data breaches remind consumers to secure financial information.
More >>

5 new year's resolutions for financial improvement
As you resolve to make some changes in 2014, do not forget about improving your financial health.
More >>

Make 2014 the year to save money
Whether you are recovering from a holiday spending hangover or simply resolving to do better fiscally in the future, the clean slate of a new year is a perfect time to reassess your finances.
More >>

4 bad money habits to break in 2014
Make 2014 your fiscally fittest year yet by kicking these bad money habits.
More >>

Make the most of charitable giving and tax breaks
Giving now can save money later on taxes.

More >>

Avoid these 6 holiday spending mistakes
This may be the most wonderful time of the year. But the holiday season also can be one of the costliest.
More >>

Save money this holiday season
Avoid a spending hangover with these 5 smart tips.
More >>

Financial tips for adults returning to college
Returning to school requires an upfront financial commitment. But college can be affordable when you put these tasks on your personal syllabus.
More >>

Keep yourself and your bank account healthy
5 steps to managing medical debt.

More >>

Steps to saving for a down payment
Be smart with your money and move into your dream home sooner.
More >>

The DOs and DON'Ts of applying for credit
Understand your risks and obligations.
More >>

The changing face of debt settlement
The deeper Americans go into debt, the greater the need for debt relief assistance. If you find yourself in very serious debt, here is what you need to know about getting help.
More >>

Financial survival tips for furloughed workers
Many of those who have suddenly find themselves without incomes are facing tough times. These steps can help see you through this lean time.
More >>

Manage the costs of pet ownership
If your home is one of the 60 percent of U.S. households that have a pet, here are some things that you can do to ensure the well-being of your beloved furry family member without breaking the bank.
More >>

Find your financial footing after bankruptcy
Six tips to get you back on track.
More >>

6 financial tips for the savvy single
Taking care of business when you take care of yourself.
More >>

How to survive a job loss
Here are 8 tips to help you get through lean times.

More >>

Never too early or too late to plan for retirement
Retirement can sound almost too good to be true. Unfortunately, fewer than half know how much to save in order to maintain something close their current lifestyle.
More >>

The company you're keeping on Facebook could affect your credit score
There are a number of valid reasons why you need to keep watch of the people you add and keep on Facebook. More lending outlets are turning to checking social connections online to evaluate people's loan eligibility.
More >>

Top 12 vacation money savers
Whether you're hopping in the car with the family for a weekend getaway or flying across the country, you can follow these simple tips to total vacation bliss.
More >>

Save money for Mother's Day, or any day
Whether you've always wanted to take mom to Mexico or splurge on a day at the spa, here are some easy tips for saving up dinero for Mother's Day and all year round!
More >>

How to say no to your boss
To create a good work-life balance, you might have to learn to say no to your bosses.
More >>

"Scrooge Index" shows that New York is America's least charitable city
America's richest communities have been cross-referenced with how much, or little, those who live there give to charity. If you're looking for donations, you may want to avoid New York.
More >>

4 tips for a tough summer job market
If you're a high school or college student looking for work in the coming months, here's some tips on how to make your own form of employment, whether you're looking to pad your resume or line your pocketbook.
More >>