Avoid these 5 costly money-saving mistakes
Tips for maximizing your savings potential
More >>

Typical retirement expenses
Once people reach retirement age, their spending habits often change.
More >>

Protect yourself against identity theft
More than 13 million Americans were victims of identity-theft fraud last year. The number of victims has increased by half a million people since 2012.
More >>

Borrowing from your retirement plan
While most of us would rather not take money from our retirement plans until after we retire, we are sometimes left with no alternative.

More >>

Top tips for successfully renting out your home
Many people mull over the idea of renting out their homes in a down market. Here are five steps that will get you going in the right direction.

More >>

5 investment risks created by global warming
If the Earth's climate continues to see more weather and temperature volatility, new types of risk will rise to the forefront of corporate and individual concern.

More >>

Unlocking the secrets to a financially happy relationship
Fall is now second only to summer as the most popular time to tie the knot. However, before a couple says, "I do," it is important to first have a truthful heart-to-heart talk about finances.
More >>
Protect your kids and pets with custom insurance
One of the best gifts a parent could give to their children is their financial security by way of life insurance.
More >>

An introduction to student loans and the FAFSA
Even if you think you won't qualify it is important to fill out an FAFSA form. You may be surprised and you wouldn't want to miss an opportunity to access cheap funding options.
More >>

Get a handle on medical expenses
Fast action can keep debt under control
More >>
5 horrific things that can haunt your finances
There are many everyday events that can turn your life into a financial horror story
More >>

Start building solid credit at a young age
For consumers who are just hitting college age, or even still in high school, building a solid credit history seems like the least of their concerns. But in today's world, showing that you're responsible with your money matters more than ever.
More >>

Should you refinance your mortgage?
Weigh the pros and cons before deciding.
More >>
Top reasons to apply for an FHA loan
The FHA provides mortgage insurance on loans for single-family and multi-family homes made by FHA-approved lenders in the U.S. and its territories.
More >>

6 good reasons to get renter's insurance
If you're renting an apartment or home, you'll need an insurance policy to cover your belongings.

?


More >>

Cheap car insurance for college students
If you're of college age – or have a college-age student in the family – you probably know it's a terrible time to buy auto insurance.
More >>

The importance of an emergency fund
4 reasons you need to start saving now.
More >>
Credit cards for people with bad credit
Consumers with poor credit scores were once locked out of the credit card game. But lenders are beginning to court those whose low scores once typed them as too risky to be offered a credit card.
More >>

Know cost of living before taking a relocation package
Have you just been offered a new job or promotion that involves relocating?
More >>

Types of social security benefits
Social Security isn't just for retired people. The program also pays benefits to the disabled, widows and widowers, children, stepchildren, divorced spouses and others.
More >>

Should you change banks?
Nearly 20 percent of consumers have considered switching their checking accounts to a different financial institution, a 2012 Consumer Reports survey found.
More >>

The top credit reporting bureaus: How different?
There are three major, nationally recognized consumer credit reporting agencies. They all collect information about consumers, calculate credit ratings and sell credit reports..
More >>

The best financial careers for women
Women and men don't always have the same wants and needs when it comes to careers.
More >>

Selling your house? Avoid these mistakes
Selling your home - especially if you've never done it before - can be surprisingly time-consuming and emotionally challenging.
More >>

Where's the market headed now?
When stock prices are falling, the question on most investors' minds is "when will it stop?"
More >>

Job search do's and don'ts
7 tips for landing a new job.
More >>
Millennials: Prevent a bad credit score
Though no one plans to have a poor credit score, sometimes life throws you a curveball that results in exactly that – a credit history that's badly damaged.

More >>

How to apply for unemployment insurance
Have you or somebody you know recently lost a job? You might be entitled to unemployment insurance through the federal and/or state government where you live.
More >>

Six financial steps to take when you move
How to avoid letting relocation damage your credit profile
More >>

Wipe out debt for good
4 keys to free yourself of credit card debt.
More >>

Coffee: The cost of a cup
Coffee: Plenty of us swear by our daily caffeine fix. Coffee has to be one of the cheapest addictive substances in the world, and as an added bonus it doesn't give you cancer.

More >>

Five valuable credit report lessons
What you can learn from checking your credit profile.
More >>
OMG, I think I've been scammed!
Americans lose an estimated $40 - $50 billion a year to investment scams, according to the Financial Fraud Research Center. And, contrary to popular perception, it's not just the most vulnerable or gullible among us who fall prey.
More >>

Affordable family fun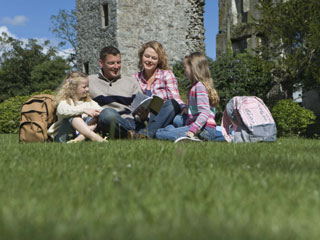 © Jupiterimages / BananaStock / Thinstock

7 inexpensive summertime activities.
More >>
Websites that save you money on hotel rooms
Finding a reasonably priced hotel room is not necessarily a slam dunk in the Internet age.
More >>

6 questions for your realtor
If you are like most home buyers and sellers, chances are you'll want a qualified real estate agent to help you through the process.

More >>

Rebound from financial pitfalls
4 steps to getting your money affairs back in order.
More >>
Make money off credit card sign-up bonuses
If you could easily make several hundred extra dollars a year with minimal effort, would you do it?

More >>

Why gasoline costs what it does
Pulling up to the gas station can be an exercise in sticker shock, especially if you live in California or New York. But it's not just the price of

crude oil

that determines gasoline prices.
More >>

Avoid vacation debt by staying home this summer – and still have fun
Make the most of a staycation with 10 local (and affordable) activities.
More >>

Save on moving expenses to stay out of debt
Seven strategies to cut relocation costs.
More >>
Make time for a mid-year money checkup
Now is the time to get finances back on track and dig out of debt.
More >>

Plan an affordable vacation without going into debt
Stay within your means and still have fun.

More >>

Plan a dream wedding on a dime
Say "I do" without breaking the bank.

More >>

Say good riddance to debt
When you factor in mortgages, car loans, student loans and credit cards, the average American is more than $225,000 in debt.
More >>

Tips for repaying student loans
Be smart about paying off education debt.

More >>

4 places to provide money lessons for youngsters
Schools spend a lot of time teaching children reading, writing and arithmetic. Unfortunately, math lessons rarely include a course on how to manage finances.

More >>

5 signs you are ready for home ownership
Owning a home is still many people's idea of the American dream. Yet purchasing a home still requires a major financial investment and a long-term commitment.

More >>

Test your money smarts
Take this quiz to gauge your financial IQ.

More >>

Investing 101
Market investment tips for beginners.
More >>

Secrets of debt collection agencies
It can be unsettling when a debt collector tracks you down and inquires about repayment. But owing money to a creditor does not place you completely at its mercy.
More >>

Cash in on spring cleaning
6 ways clutter-busting can save you money.
More >>

6 ways to cut child care costs
Ensure quality care at an affordable price
More >>

Save money with social media
Find discounts and deals on Facebook and more.
More >>

5 simple steps to creating a budget
A budget plays a vital role in helping manage your money, getting out of debt and staying that way. It is also a must for ensuring your long-term financial future.
More >>

Romance on a budget
6 low-cost ways to show your love this Valentine's Day.
More >>

5 things you need to know about the Affordable Care Act
Learn how health care reform may impact your finances.
More >>

5 steps to protect your credit
Recent data breaches remind consumers to secure financial information.
More >>

5 new year's resolutions for financial improvement
As you resolve to make some changes in 2014, do not forget about improving your financial health.
More >>

Make 2014 the year to save money
Whether you are recovering from a holiday spending hangover or simply resolving to do better fiscally in the future, the clean slate of a new year is a perfect time to reassess your finances.
More >>

4 bad money habits to break in 2014
Make 2014 your fiscally fittest year yet by kicking these bad money habits.
More >>

Make the most of charitable giving and tax breaks
Giving now can save money later on taxes.

More >>

Avoid these 6 holiday spending mistakes
This may be the most wonderful time of the year. But the holiday season also can be one of the costliest.
More >>

Save money this holiday season
Avoid a spending hangover with these 5 smart tips.
More >>

Financial tips for adults returning to college
Returning to school requires an upfront financial commitment. But college can be affordable when you put these tasks on your personal syllabus.
More >>

Keep yourself and your bank account healthy
5 steps to managing medical debt.

More >>

Steps to saving for a down payment
Be smart with your money and move into your dream home sooner.
More >>

The DOs and DON'Ts of applying for credit
Understand your risks and obligations.
More >>

The changing face of debt settlement
The deeper Americans go into debt, the greater the need for debt relief assistance. If you find yourself in very serious debt, here is what you need to know about getting help.
More >>

Financial survival tips for furloughed workers
Many of those who have suddenly find themselves without incomes are facing tough times. These steps can help see you through this lean time.
More >>

Manage the costs of pet ownership
If your home is one of the 60 percent of U.S. households that have a pet, here are some things that you can do to ensure the well-being of your beloved furry family member without breaking the bank.
More >>

Find your financial footing after bankruptcy
Six tips to get you back on track.
More >>

6 financial tips for the savvy single
Taking care of business when you take care of yourself.
More >>

How to survive a job loss
Here are 8 tips to help you get through lean times.

More >>

Never too early or too late to plan for retirement
Retirement can sound almost too good to be true. Unfortunately, fewer than half know how much to save in order to maintain something close their current lifestyle.
More >>

The company you're keeping on Facebook could affect your credit score
There are a number of valid reasons why you need to keep watch of the people you add and keep on Facebook. More lending outlets are turning to checking social connections online to evaluate people's loan eligibility.
More >>

Top 12 vacation money savers
Whether you're hopping in the car with the family for a weekend getaway or flying across the country, you can follow these simple tips to total vacation bliss.
More >>

Save money for Mother's Day, or any day
Whether you've always wanted to take mom to Mexico or splurge on a day at the spa, here are some easy tips for saving up dinero for Mother's Day and all year round!
More >>

How to say no to your boss
To create a good work-life balance, you might have to learn to say no to your bosses.
More >>

"Scrooge Index" shows that New York is America's least charitable city
America's richest communities have been cross-referenced with how much, or little, those who live there give to charity. If you're looking for donations, you may want to avoid New York.
More >>

4 tips for a tough summer job market
If you're a high school or college student looking for work in the coming months, here's some tips on how to make your own form of employment, whether you're looking to pad your resume or line your pocketbook.
More >>