How does a reverse mortgage work?
When people are younger and think of cashing in on their home equity, they imagine renting or selling their house. If you're at least 62 years old, you have a third option: a financial product called a reverse mortgage.

More >>

Feeding birds in winter
Winter is a difficult season for birds who stick around in northern climes. They need extra stamina to keep themselves warm, just at the time of year when their usual foods are in short supply.
More >>

Need to sell your house ASAP? Opendoor will buy it from you in minutes
There are lots of sites, such as Zillow and Trulia, that exist to help homebuyers. But what about those that are putting their house on the market?
More >>

Porch's new app helps you find a plumber or electrician in under a minute
Need a plumber? There's an app for that.
More >>
Surprising energy vampires and how to subdue them
Is your home playing host to evil energy vampires? Also known as a "phantom," an energy vampire is any electrical device or appliance that consumes power even when it is on stand-by mode, or even turned off completely.
More >>

10 tips for cutting winter costs
Preparing for cold weather can help keep winter expenses manageable.
More >>
How cold indoor temperatures can harm your health
Whether due to inadequate insulation or an inefficient heating system, an underheated home feels chilly and unwelcoming. Even worse, cold temperatures inside can have a decidedly negative effect on your health.
More >>

Want to prevent frozen pipes? Here's how
When outdoor temperatures drop and cold winds blow, your water pipes are in danger.
More >>

15 important items for a DIY emergency preparedness kit
Hurricane, tornado, earthquake, flood, fire! We all hope that none of these disasters will affect us, but just in case the unthinkable happens, it's wise to be prepared.

More >>

How to decorate a fireplace mantel for fall
As the weather begins to cool and your family gathers around the living room fireplace, create a beautiful autumn mantel design to welcome the changing of the seasons.
More >>

Hand launder the efficient, eco-friendly way
Hand washing is the laundry method of choice for most delicate clothing fabrics. What's the best way to do it? And how can you make the process as environmentally friendly as possible?
More >>

Easy DIY fixes for a naturally clean kitchen
Are you sick and tired of spending big bucks on chemical cleaners full of scary ingredients? You can find some wonderful natural cleaning agents already in your pantry or on the shelf of your local health food store.
More >>

Install a new kitchen with timeless style
To make the most of your kitchen remodel dollar, choose a classic look that will never go out of fashion.
More >>

10 top to-dos for fall maintenance
Check out this check-list for prepping your home for colder weather.

More >>

Yes, you can remodel on a tiny budget
Even with a limited renovation budget, there are a number of very practical ways that you can improve your house's appearance and functionality. Find out how.
More >>

Rent, don't own, to simplify your life
People have been learning to tighten their belts and make do with less. Part of that involves giving up traditional American consumerism and instead of buying more and more consumer goods, renting what they need when they need it. Would that work for you?
More >>

Create easy eco-friendly decor accents with fall fruit
With the change of season, you're probably looking for a few home decor touches that say "Autumn." You'd like them to be seasonal, eco-friendly, easy to make, and, most of all, charming and welcoming just like your house.
More >>

Why not plant vegetables this fall?
No matter how generous Mother Nature was in supplying you with homegrown produce over the past weeks, it soon will be used up, given away, or preserved for the coming winter. Imagine having a new stock of fresh, delicious, healthful veggies to enjoy as the weather turns nippy.
More >>

Recycled content tile: Choose the eco-friendly option
Recycled content tile, a relative newcomer to the home improvement scene, goes conventional tile one better by offering all its traditional advantages together with an even more impressive green scorecard.
More >>

10 popular roofing styles -- Which is the best for you?
Besides performing the essential function of protecting human beings from sun, rain, hail, and snow, roofs come in various shapes that add architectural interest to the buildings they cover.

More >>

Here's how to clean concrete floors
Although it is a relatively low maintenance material, concrete does need occasional cleaning to get rid of dirt, stains, and oily patches.
More >>

Garage door opener problems: A troubleshoot guide
Having trouble with your garage door opener? Now's the time to take care of any problems. Come winter, you do not want to arrive home from work on a cold, dark evening and be stuck outside.
More >>

Freeze produce now to enjoy summer flavor all year
Freezing is a fantastic method of storage. Come winter, your stash of produce may be quickly pulled out of the freezer to give variety and lift to cold weather meals.
More >>

How to find -- and use -- hidden storage space
In desperate need of more room to stash your stuff? Examine your home from every angle, and you are likely to find snippets of unused space, just there for the taking.
More >>

A new twist on the Labor Day barbecue
Think Labor Day weekend is just another excuse for a barbecue? Try celebrating the last days of summer in an all new way.
More >>

Keeping your PC, smartphone or tablet clean
PCs, Smartphones, and handheld tablets are essentials of daily life. However, these conveniences need some basic maintenance to stay in top working order. Learn how to clean your electronic devices in the following easy, natural ways.
More >>

Five essential tips for designing your kitchen
Here are some less traditional ways to think about kitchen design, whether your project is outfitting a rental kitchen in a tiny walk-up, or the kind of larger-scale remodel you dream about.
More >>

8 barbecue party tips you need to know
Whether you're a first time planner, or seasoned professional, a barbecue is one of the most fun and exciting parties you can throw.
More >>

Essential spring cleaning checklist for every home
Spring is here once again and you know what that means – it's time for spring cleaning.

More >>

Adjusting your thermostat might improve your thinking
You think best when the air temperature is at a level that makes you feel the most comfortable, new research suggests.
More >>

Spring cleaning safety tips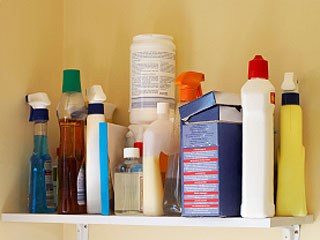 © iStockphoto.com / Jason Reekie


While doing their spring cleaning, families will use a wide range of products that can cause accidental poisonings, an expert says.
More >>

Does housework count as exercise?
Most household chores can count toward your physical activity quota, but to really stay fit, you need to make sure you're getting your heart rate up.
More >>

The best flowers to plant in spring
Spring is a favorite time of year for many people. The weather is warming up after the cold winter, trees are beginning to bud and spring plants are blooming with vibrant flowers.
More >>

6 nifty ways to organize your laundry room
Is it time for a laundry room overhaul? To become an organization pro, here is some advice that works like magic.
More >>

Old wood stoves a costly way to keep warm
Although many people use indoor and outdoor wood heaters to save money on fuel costs, burning wood to stay warm during the cold winter months might not be cost-efficient, according to the U.S. Environmental Protection Agency.
More >>

5 naturally soothing scents
While we can't always crawl into bed at any given hour in the day, we can surround ourselves with calming aromas at anytime. Here are five scents that have been proven to naturally soothe.

More >>

Could turning down the thermostat help you lose weight?
Could your warm and cozy home be hindering your weight-loss efforts?
More >>

Formal Valentine's Day decoration ideas for the dining room
Whether it will be a romantic meal for two, or a festive holiday banquet for a large group, Valentine's Day décor will enhance your dining room's holiday atmosphere.
More >>

Ways you can beat household odors
A busy home with sealed-up windows can lead to stale, unpleasant odors. And the last thing that any host wants to hear is, "What's that smell?"
More >>

Winter chores made easier - and safer
Cold weather sure does make household tasks pile up. Before you tackle your to-do list, chill out with these tips from injury-prevention experts.
More >>

5 inspiring new year's resolutions you can keep
If the new year's resolutions you've made already sound unrealistic, here are some new ones that you'll actually be inspired to keep.
More >>

How can you recycle your Christmas tree?
Before you settle for a Christmas tree collection service, consider one of these ways to repurpose and recycle your tree.
More >>

Keep a germ-free home for the holidays
The holidays are all about opening your doors and welcoming friends and family. But along with hostess gifts, your guests may also bring sniffle-causing viruses and colds.

More >>

How to decorate your home like a winter wonderland
Creating a white winter wonderland in your home to celebrate the holiday season can add a sparkle to this festive time of year.
More >>

Get your kitchen holiday party-ready
The most important prep step? Plan ahead.

More >>

Streamline your holiday schedule
When it comes to staying organized over the holidays, being realistic instead of holding yourself to some fictional standard goes a long way toward staying sane during December.
More >>

Etiquette tips for surviving social awkwardness
Whether you're attending a holiday party, wedding, business event or other celebration, you can sometimes find yourself in an awkward situation and wishing Miss Manners were by your side.
More >>

Smarten up your dumb house with Z-Wave Automation
If you're even moderately interested in DIY home automation, you've likely run across the name "Z-Wave" at some point.

More >>

Fall home makeover tips
Check out these predictions on the hottest house accessories for the season.


More >>

7 ways you haven't hurricane-proofed your home yet
Do these seven things now to protect your home and family.


More >>

Halloween decoration ideas for the office
If you find yourself spending more time at your desk than on your couch, there's no reason you can't celebrate the Halloween season in your office, and use these fun and festive décor ideas to liven up your work space.
More >>

Make a small room seem bigger
Here are a few tricks that can make a small room seem more spacious
More >>

7 laundry time savers
A national survey revealed that laundry ranks among our top three least favorite chores.

More >>

Make more money at your next garage sale
How do you bring in the buyers -- and get the most money for your attic treasures?
More >>

Basil: The perfect summer herb
Basil is the quintessential garden plant -- equally happy to sprawl out over the expanse of a walled-in plot or flourish in a box on the window sill.
More >>

3 projects to do for your dad on Father's Day
Don't buy the tie! There's no need for your standard go-to Dad's Day gift this year. Try one of these simple projects as a Father's Day present.
More >>

Memorial Day games & activities for kids
Here are some active, outdoor games that are fun but simple to play; get ready to create summertime memories.
More >>

5 germ hot spots you aren't cleaning
Here are five germ hot spots you're probably missing when you clean, and the most powerful tools to add to your cleaning arsenal today.
More >>

Summer gardening guide
Summer is the time to freshen up the garden, pay careful attention to maintenance and enjoy the fruits of your labor.
More >>

10 kitchen gadgets you probably don't need
There are many kitchen gadgets out there that claim to make your life simpler, but there might already be something in your kitchen that can do the same job.
More >>

St. Patrick's Day history, traditions & facts
It's the day when being Irish or even just attempting a lyrical brogue will make you an honorary member of the Emerald Isle.
More >>

Turn your bedroom into a getaway
Your master bedroom should be your oasis from the rest of the world. And yet it's often the last room in the house to get a good makeover.
More >>

De-clutter your life -- and your mind
Even for those who are not hoarders, holding on to large quantities of unnecessary stuff can raise anxiety and lower well-being.
More >>

The most dangerous spiders in your home
Venomous spiders can be dangerous to those who spend time outside. These spiders occasionally find their way inside home and can present a serious risk.
More >>

Are electric blankets safe?
Most safety problems related to use of an electric blanket are preventable.

More >>

Unique gift wrapping ideas
There's a wide world of ways to wrap a present.
More >>

Vintage Christmas decorations
Holiday decorating goes through fashions and styles, and the tree you remember as if it was yesterday has become today's vintage look.
More >>

BPA: Is there danger in your kitchen?
The toxic chemical BPA could be contaminating your containers, cans and more. Here's what to look out for.
More >>

Fun election-themed foods
This election year, try looking at the first Tuesday in November as what it truly is – the Super Bowl of politics!
More >>

Living room clutter busters
You can transform this room from the messiest area in your home to the organized, relaxing family haven you desire.
More >>

10 air purifying plants for the home
It turns out that houseplants aren't just a great way to spruce up a room, they can freshen the air in a room as well.
More >>

What is steampunk home decor?
Part history and part imagination, steampunk creates a futuristic "past that never was," combining classic antique clocks, gears, fabric and accessories with modern, edgy touches.
More >>

This election year, why not throw a political party of your own
This election year Maker's Mark is backing The Cocktail Party, but if don't want to march under their banner here are a few ways you can throw a political party of your own.
More >>

24 surprising uses for coffee grounds
Coffee grounds have numerous uses around the house and in the garden. You can even use them in your beauty routine.
More >>

8 ways to make your home healthier
Your house's air quality and the products you use every day can all have an effect on your health and that of your family. Here's how to make your home a safer and healthier place to live.
More >>

Bluetooth device and iOS app ensure you never lose your keys again
The Kickstarter project vows that you'll never misplace your keys again by using a Bluetooth 4.0 device and iOS app to locate the lost item.
More >>

How to plan a monster garage sale
A garage sale is a great way to bring in some extra cash, clear out clutter and do some good for the environment.
More >>

The most dangerous animals in your backyard
Your backyard should be a safe haven for your family and pets, but there may be dangers hiding under your bushes.
More >>

How to build a tire swing
A tire swing hanging from a large tree is a tradition that is as American as hot dogs and apple pie. Here's how you can make your own.
More >>

10 weird plants from around the world
Flowers with unexpected animal features? Masters of camouflage? Here are 10 weird and wacky plants that can be grown by any gardener.
More >>

Hidden household cat poisons
While you assume your home is a safe and happy place, you may have some surprising things around that are toxic, and even fatal, to your cat.
More >>

Spring cocktail party ideas & tips
Spring cocktail parties are the perfect way to welcome the new season, enjoy the warming weather and take advantage of the newly blooming landscape.
More >>

Backyard barbecue ideas for Memorial Day
Hosting a backyard BBQ for Memorial Day is a great way to enjoy the warming weather, celebrate a time-honored tradition with friends and family, and try your hand at working that new grill.
More >>

Spring-cleaning special: Allergy-proof your house
These simple steps will help you breathe easier at home in no time.
More >>

Junk drawer no more
This spring, make a commitment to organize your junk drawer -- or drawers!
More >>

How to repair a wooden dining table
Repairing a worn or damaged wood dining table is an easy weekend project that will have you entertaining in style.
More >>

Guide to buying a kitchen faucet
With a flick of the wrist or a gentle touch, it enables food preparation, cleanliness or a drink of water in your home's busiest multipurpose room.
More >>

How to weather-strip your front door
If you feel a draft around your front door, chances are you're wasting energy and throwing money away through leaks around the perimeter.
More >>

How to decorate with apothecary jars
There are apothecary jars for every taste and budget, so start exploring the possibilities.
More >>

Need to hang your flat screen TV?
Wall-mounting a flat screen plasma, LCD or LED television is a smart and aesthetic way to update a room and make TV viewing more comfortable.
More >>

7 questions to answer before buying a new vanity
Simplify your search for the perfect bathroom vanity by first considering these options.
More >>

How to mount a mirror in your bathroom
What's the best way to hang a bathroom mirror? The answer depends on what kind of bathroom mirror you'd like to mount, as mirrors are either framed or frameless.
More >>

What are the best scented candles for every room?
Candles quickly create a soft, romantic ambiance when placed in any room, and can be used throughout the house as both décor and lighting.
More >>

Winter bedroom design ideas
If you're feeling inspired by snow covered mountains, luxurious furs and rural woods, create a warm and comfortable winter bedroom design.
More >>

The essential winter cleaning checklist
Use this checklist to make sure your home is ready for cozy nights and cooler temperatures.
More >>

Outdoor winter party ideas
If you have great weather all year long, or even if you don't, try throwing an outdoor winter party this year, and celebrate the season surrounded by nature. With the right decorations, lighting and accessories, your winter party is sure to rival the best of summer BBQs.
More >>

Winter pruning guide: Why you should prune each year
Pruning during the winter months can help improve your plants shape, form and growth. Think of winter pruning as preventive maintenance.
More >>

Easy kitchen updates under $100
If your kitchen is sorely in need of a facelift and your budget is next to nothing, don't be discouraged. Your kitchen can get a whole new look for under $100.
More >>

8 space-saving tips for a compact kitchen
By equipping yourself with an environment conducive to neatness and order, you will get into the habit of keeping your space clean. Here are a few tips to help you maximize space in your kitchen.
More >>

How to organize your garage
Are you asking yourself "How did my garage get this way?" Here are some specific steps to help you organize your garage.
More >>

Tips to protect your home from severe weather
When people think of winterizing their homes, most often their heating bills spring to mind - along with insulation and weather stripping. The winter months bring not only high energy bills, but also an increased chance of certain kinds of damage to your home and its contents.
More >>

Guide to buying a dishwasher
Today's dishwashers come with a host of features and upgrades. Click through for tips on waht to consider when you're shopping for a new model.
More >>

Guide to buying a high-efficiency washing machine
If you're in the market to buy a high-efficiency (HE) washer, join the crowd. Here are nine things to consider before you buy a HE washer.
More >>

Guide to buying a range
Whether you cook frequently or just once in a while, every kitchen needs a range; it's a necessity and a focal point in the heart of every home. But with so many types and models to choose from, how do you know which range to select?
More >>