How sweet it is
There's nothing wrong with a little sugar in your holiday wine.
More >>

Homemade for the holidays: Edible gifts
Check out this gallery of recipes that work beautifully as holiday presents or hostess gifts, from savory pickles and spice blends to candied fruit and sweet liqueurs.
More >>
Easy Hanukkah recipes
Help create warm and happy holiday memories by bringing the wonderful tastes of traditional, homemade Hanukkah foods to your table.
More >>

Whiskey aces
Six exceptional bottles worth seeking out this winter, for a gift or for yourself.

More >>

In praise of the White Russian
Check out these variations on the coffee, cream, and vodka drink you won't be ashamed to love.
More >>

Could a 'Mediterranean' diet extend your life?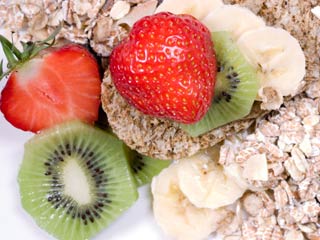 ©  


There are hints in a new study that eating the much-lauded Mediterranean diet may help boost longevity.
More >>

How to weave a lattice top for pies
Though it may look fancy, it's easy to quickly make a lattice top when you follow this simple weaving technique.
More >>

Forgotten coast: The Florida Panhandle
Among the pleasures of a scenic trip along the Florida Panhandle -- plump oysters, tender shrimp, crispy fried mullet, and classic Deep South dishes.
More >>

Calorie counts mandated at chain restaurants
New rules announced Tuesday by the U.S. Food and Drug Administration will have many restaurant chains posting calorie counts on their menus, and the rules even apply to movie theater popcorn and ice cream parlor fare.
More >>

Guide to preparing for Thanksgiving dinner
If you plan on hosting Thanksgiving dinner this year, make sure you're completely prepared by following this essential checklist for Thanksgiving dinner.
More >>

Lucky charm: Barmbrack
Traditional Irish harvest bread is full of surprises.
More >>

The world of garlic
Check out these 27 varieties of garlic to try in your home kitchen.

More >>

9 favorite holiday dishes, healthier
Thanksgiving is coming. If you groan at the prospect of a calorie-heavy, nutrient-scarce meal, there's good news in sight.

More >>

A goodly slice
Made from sweetened navy bean purée, this sweet potato-like pie boasts a silky, custardlike base spiced with nutmeg.

More >>

Save money on holiday meals
10 tips to host a delicious dinner without going into debt.
More >>
Holiday for the heroes
At Napa Valley's Bouchon Bistro, it's a Thanksgiving tradition to honor American veterans with an incomparable family meal.
More >>
Houston, we have turkey
An astrophysicist engineers the perfect bird, cooked in under an hour.

More >>

A taste of the past
A daughter comes to terms with her father through his childhood foods.

More >>

Devils on horseback
Usually, a dish by this name features prunes wrapped in bacon; when the oysters are swapped in, the "devils" become "angels." But whoever wrote this recipe knew these morsels were too diabolically delicious to be otherwise named.
More >>

Save money with these subs for expensive ingredients
Reducing your weekly grocery bill is not simply a matter of spending less. You also need to cook smart to get the most for your money while producing meals the whole family will enjoy.

More >>

Great mail-order pies
For your money, the best innovation in American baked goods since sliced bread might be mail-order pie: great regional wonders delivered directly to your doorstep.
More >>

Any given Sunday dinner
How an expatriate learned to love the roast, Australia's essential family meal.
More >>

Milk fed
Midwest dairies try something new -- with cheese.

More >>

Almost family
At a Louisiana restaurant, a father-son bond is celebrated and forged again.
More >>

Required eating
Bengali fish stew is more than just a dish -- it's tradition and ritual
More >>

DIY hard cider
This homemade hard cider combines the flavors of a crisp white wine with the warm scent of cloves, cinnamon, orange, and apple.
More >>

Season of plenty: China's mushroom harvest
From remote mountain forests to bustling urban markets, in China's Yunnan Province, mushrooms are foraged treasure.
More >>

Chocolate turtle power
A Massachusetts candymaker updates an American favorite.
More >>

Yogurt: Milk's finest hour
From decadent sweets and creamy condiments to the best marinade for tender grilled meats, yogurt's culinary potential is boundless.
More >>

10 quick fixes for healthy weekday dinners
How can you get everyone fed, healthy, and happy -- fast -- without wearing yourself out? Be prepared and creative with these ten quick, easy shortcuts.
More >>

Bold pie and ice cream pairings
Check out these 14 bold pie and ice cream pairings, from a strawberry lattice-top with basil gelato to a rich raspberry pie brightened by a scoop of creamy peach.
More >>

Two perfect days in Camden, Maine
Where to eat, what to do, and where to stay in this quaint, midcoast town.
More >>

Papa's favorite poison
Straight up, over ice, or frozen, daiquiris are just as good now as when Hemingway drank them. Of course, like many classics, the daiquiri is easy to make and easy to get wrong.
More >>

Art of antipasti
Is there a better way to start a meal than with an abundant antipasti platter, artfully arranged with ruffles of meat, cheese and vegetables?

More >>

How much salt is too much?
Most people get too much or not enough salt in their diet. Like Goldilocks with her bowls of porridge, the trick is finding the amount that is just right.
More >>

Freeze produce now to enjoy summer flavor all year
Freezing is a fantastic method of storage. Come winter, your stash of produce may be quickly pulled out of the freezer to give variety and lift to cold weather meals.
More >>

A new twist on the Labor Day barbecue
Think Labor Day weekend is just another excuse for a barbecue? Try celebrating the last days of summer in an all new way.
More >>

Putting heat to meat
Among burger aficionados, no question is more hotly debated than that of which cooking method produces the tastiest results.
More >>

The love of tea
Wherever you are in India, you're never far from a tea vendor peddling chai, a sweet, milky tea, from trays of steaming glasses.
More >>

Cape Town's classic shake
This avocado-mint milkshake from South Africa makes a cooling summer treat.
More >>

Southern comfort, Indian-style
Crisp griddled dosas -- savory South Indian fried crepes -- pave the way for new friendships.

More >>

Fries: Belgium does them better
After a lifetime spent eating American-style french fries, a first taste of Belgian-style frites is a transformative experience.
More >>

How to rehydrate dried coconut
Nothing beats the satisfaction of cracking open a fresh coconut. But if fresh coconuts aren't readily available, check out this trick.
More >>

Fridge raid
Raiding the fridge for leftovers is a late night tradition.
More >>

Juicy Fruit: Mexico's prickly pear cactus fruits
In late summer in Mexico, prickly pear cactus fruits, or tunas, are everywhere—a refreshing snack eaten out of hand and a popular ingredient in candies, drinks, jams, and more.

More >>

Bad weather? Make a stovetop smoker
The rich flavors of smoked meat are closer than you think: all you need is a pot, foil, and a steamer insert to make a stovetop smoker.
More >>

Five essential tips for designing your kitchen
Here are some less traditional ways to think about kitchen design, whether your project is outfitting a rental kitchen in a tiny walk-up, or the kind of larger-scale remodel you dream about.
More >>

Maine's latest seafood star
Cold northern waters are providing some of the best oysters you're likely to taste.
More >>

4 perfect veggie burgers
These four veggie burgers are worthy occupants of any bun -- no faux-meat here, just fantastically delicious combinations of beans, vegetables, legumes, and grains.
More >>

8 barbecue party tips you need to know
Whether you're a first time planner, or seasoned professional, a barbecue is one of the most fun and exciting parties you can throw.
More >>

Summer juice smoothie recipes
Grab a blender and some ice this summer, and try your hand at making your own smoothies.
More >>

Fourth of July cookout recipes
Entice your guests with traditional American favorites and a few grilled surprises.
More >>

Berries made better: Macerating strawberries
The process called maceration softens fruit and imparts flavor, transforming even less-than-perfect berries and stone fruit into something worthy of dessert.
More >>

The many faces of ramen
As a Japanese fast food phenomenon, a budget meal solution, a hangover cure, and an upscale menu item, ramen has proven to be an infinitely variable dish.
More >>

A writer's beef
Ernest Hemingway's preferred hamburger recipe was a master work in its own right.
More >>

Ice cream cocktails -- a Wisconsin favorite
The Greenwood Supper Club in Fish Creek, Wis., mixes liquors with vanilla ice cream and whipped cream for classic takes on a grown-up sundae.
More >>
Hot country chicken
In Nashville, a piquant poultry dish has become a way of life.
More >>

Luscious layovers
Airports are upping their gastronomic game, giving food-minded travelers a reason to linger between flights. Check out this list of five great airports to eat in.
More >>

Becoming an oyster convert
The tasting room of Rappahannock River Oyster Co. in Topping, Va., turns an oyster agnostic into a full-fledged fiend.

More >>

A saucy dish: Tagliatelle Bolognese
At La Trattoria di Oscar in Bevagna, Italy, chef Filippo Artioli uses a beef and chicken stock to cook the pasta for his robust ragù, made with fat-rich beef.
More >>
Five great grilling recipes for summer dinners
By Alexandra Kerr Why not enjoy the sunny weather and cook dinner outside on the grill? Whether you love a good steak, pork chops or burger, or want your family to stay on the healthier side of dinner, try grilling one of these great summer dinner recipes. Blue Cheese Burgers A flavorful take on the classic burger, try this simple grill recipe for a burger both kids and adults will love. Depending on your choice of bun and meat, the blue cheese burger can be as delectable or healthy as ...
More >>

Hot dog facts: Pros and cons
Hot dogs are great any time, but sales of this particular food product tend to skyrocket in the summer when cookouts and barbecues are all the rage. Read on to find out more about the pros and cons of eating this popular, family-friendly treat.
More >>

Beyond tomatoes: Four great ketchup alternatives
Think ketchup starts and ends with tomatoes? Think again.
More >>

Late night tradition: Spaghettata
More than a late-night snack, it's an impromptu dinner party.
More >>

How to pan-fry fish
One of the simplest and most rewarding ways to prepare fish is to pan-fry a skin-on fillet. The method yields browned, crispy skin on the outside and flaky, moist meat inside, all in a matter of minutes. That is, if you do it properly.
More >>
Good nutrition for a beach-ready body
We all want to firm up those tummies before hitting the surf this summer, but there's much more to getting bikini-ready than just stopping by your favorite spin class three times a week.
More >>

May Day sweets: Sima and Tippaleipä
This funnel cake made from light and lemony batter is deep fried and dusted with powdered sugar for a sweet May Day treat. In Finland it's enjoyed alongside Sima, a fermented lemon soda.
More >>
Everyman's fish -- the tuna sandwich
One writer recounts his lifelong love for the tuna sandwich, the unsung hero of the American lunch.
More >>

From Western waters
A drive along Oregon's coast reveals soaring sand dunes, enchanting fishing towns, and some of the most memorable seafood dishes you'll likely find anywhere.
More >>

Crawfish: Born on the Bayou
Called both crayfish and crawfish, these tiny freshwater cousins to lobsters are firm and sweet. Plunged into boiling water, they cook through in just two minutes and easily soak up any seasonings, from classic Cajun spices to Asian-style ginger and garlic.
More >>

Fabled feta cheese
Just a crumble of feta's pungent, salty flavor enhances dishes from stuffed peppers to salads to savory tarts.
More >>

The pasta lesson: Making orecchiette in Puglia
While most of Italy embraces pasta, Puglia takes that love even further.
More >>

Arlene's unattainable coffee cake
A bewitching, brown sugar-swirled, pecan-topped coffee cake is all the more beloved for being off-limits.
More >>

Marseille, city by the sea
A new generation of chefs builds on the rich culinary legacy of the French port of Marseille.
More >>

Blondie -- the brownie's fairer cousin
Like a brownie in shape and texture, blondies are packed with all the brown sugar and butterscotchy goodness of chocolate chip cookies, but softer and more substantial.
More >>
Whiskey 101
The world's favorite spirit in a nutshell.
More >>

The color of rhubarb in spring
Hardy, bright, and assertive, rhubarb is a refreshing taste of spring.
More >>

Mom's Irish potato bread
For one Irish-American household, St. Patrick's Day is the perfect excuse to enjoy a favorite family dish.
More >>

7 things you can only get in Indianapolis
For some reason, sports in Indianapolis get all the attention. But instead of focusing on the Indy 500 or the Colts, we should start paying attention to the Midwestern capital city's food scene. Innovative chefs, a thriving craft beer scene, and milkshakes to die for -- these days, Indianapolis has a lot to offer.
More >>

Grapefruit: Winter's brightest jewel
Grapefruit, especially from Florida's Treasure Coast, is a favorite cold-weather fruit.
More >>

Finding a tomato in winter
A trip to Sarasota, Fla., means sunshine, beaches, and best of all, beautiful produce.
More >>

Rhapsody in red: Cooking Hungarian
One writer explores the beauty of Hungarian cuisine one home cook at a time.
More >>

A crab feast for winter: Cream of crab soup


Jumbo lump crab meat stars in an impossibly rich, creamy soup

.
More >>

Love cake
For Lahori teens in the 1990s, celebrating Valentine's Day was a secret affair.
More >>

Slow cooker questions, answered
Get the scoop on these five commonly asked questions, and kick your cooking up a notch!

More >>

Orient express: Egg foo yung
Long dismissed as takeout cliché, egg foo yung deserves a second look.
More >>

Season Shot lets you spice up your dinner with a shotgun
Here's word of another brilliant ammo innovation: shells filled with herbs and spices.
More >>

Okra revisited
In Lagos, Nigeria, the viscous vegetable claims a regular spot at the dinner table.
More >>

Get your kids cooking with you
Is your dinner table a battlefield? You aren't alone. But your child isn't doomed to a diet of white bread and chicken nuggets -- there's hope. Kids are more likely to try foods that they had a hand in cooking.

More >>

Veggies in the raw
Crudités are a celebration of the bounty of the harvest.

More >>

Easy & festive Christmas cocktail recipes
Christmas is filled with special get-togethers. Make yours extra-special with a signature holiday cocktail that adds to the joy of the season.
More >>

A Christmas dinner: All is calm, all is bright
Along the New Jersey waterfront, a small family gathers for a big holiday feast.
More >>

3 favorite holiday beers
Come winter, almost every brewery in the Western world makes a special beer for the holiday season.
More >>

The best frozen pie crusts
5 great frozen pie shells, from homestyle to whole wheat.
More >>

8 great pie tips
A few essential techniques will help you achieve rich, flaky crusts and perfect fillings.
More >>

Gluten-free classic Christmas cookies
Nothing beats the taste of warm, buttery cookies just plucked from the oven.
More >>

Cheat sheet for the perfect turkey
With the following turkey tips, you'll serve up a perfectly juicy bird -- sure to impress for many holidays to come.

More >>

Family-favorite Thanksgiving sides
Sure, the turkey is typically the star of Thanksgiving dinner. But it's really the side dishes that make or break the meal.

More >>

State of grace: A Midwestern Thanksgiving
Midwestern classics and a chef's sensibility come together on the holiday table.
More >>

Sniffle-fighting snacks
The leaves are changing, the mercury is dropping and the air is filling with the sound of sneezes and coughs. Stock up on the following foods so you can sidestep the sniffles this season.
More >>

Your 4-day prep plan for a stress-free Thanksgiving
To cut the stress out of Thanksgiving Day, streamline your meal planning.
More >>

Turkey hunt
Before you decide how you're going to cook your turkey, you need to decide what kind of turkey you're going to cook.
More >>
3 holiday goodies that are actually good for you
© iStockphoto.com / Wojtek Kryczka


Here are three holiday favorite foods that get an undeserved bad rap.
More >>

Miss American pie
How one cook embraced the glory of America's iconic dessert.
More >>

Just us cooks
In Nana's kitchen, cooking meant belonging, and the meatballs were second to none.
More >>

Guide to restaurants in Nebraska
Where to eat and stay in the Omaha area.
More >>

Candy favorites: The ultimate Halloween haul
Harvesting the bounty of the drugstore candy aisle.
More >>

Four Thai curries worthy of Siam
True Thai curries are more than the sum of their parts.
More >>

Hard cider: An apple a day
Diverse, dry, and delicious, American hard cider is making a comeback.
More >>

Candy crush: Gummy bears
Remembering Hans Riegel, a gummy-candy legend.
More >>

Health benefits of pumpkins and their seeds
Pumpkins are generally thought of as a Halloween icon and a staple of the fall season. However, that orange gourd is more than just a jack o' lantern - it's also packed with nutrients that can protect your body against serious health conditions.
More >>

Salad social
At the Summertime Salad Social, Lawrence, Kan., is the potluckiest town in America.

More >>

Fast and healthy fish recipes
When it comes to superfoods, fish is at the top of the list.

More >>

My Spanish sanctuary
The first time I fell for the market in Cádiz it was because of the annealing sensuality of its produce and the friendship I found there. The second time I discovered an equally intense but more studious passion.
More >>

The smart mom's kitchen
Cooking at home is more cost-effective than ordering in, better for your family's health, and if you do it right, quicker, too. Check out this list of items you should always have in stock for delicious, kid-friendly 30-minute meals.

More >>

Special sauce: Varieties of Mexican salsa
There's one thing most Mexicans would agree on: There's no meal without salsa.
More >>

9 succulent pies to make in September
There's nothing like late summer and early fall to capture all the wonderful flavors in nature.

More >>

Grapes galore
For many varieties, such as the fragrant Concord and sweet Niagara grapes that thrive in the Northeast, late summer and early fall is the perfect time to indulge.
More >>

5 powerful herbs and spices for your pantry
To start spicing up your life, make the following five your new pantry staples.


More >>

The building blocks of pizza
A true Neapolitan pizza is the sum of its simple but sublime parts: dough, tomato sauce, cheese, and heat.
More >>

The art of the special breakfast
Weekends call for morning meals above and beyond a bowl of cereal.
More >>

3 easy canning recipes you need to try
Canning isn't difficult, and after a few sessions, you'll become a pro.
More >>

How to throw the perfect Labor Day party
It's time to crack open the cooler, break open the BBQ grill, and jump into the pool - summer's goodbye bash is on your doorstep.
More >>

Late summer blackberries
With their glossy blue-black color and astringent, yet surprisingly sweet flavor, blackberries are a fleeting pleasure — the last, triumphant burst in summer's riotous parade of fruit.

More >>

Big pie country
Dessert steals the show at an Oklahoma rancher's annual picnic.
More >>

Capers are a powerful staple for your pantry
Despite their diminutive size, capers are flavor powerhouses.
More >>

Healthy summer snacks for kids
This summer make your own kid snacks rather than purchasing premade snacks. You'll have a better idea of what your kids are eating and you'll probably save money at the grocery store.

More >>

Ricotta: Italy's most versatile cheese
Italy's affair with ricotta is one for the ages.
More >>

Campfire classic
Enjoy the enduring legacy of s'mores.

More >>

Slim-down summer foods
Plenty of the foods that are prevalent this time of year tantalize your taste buds, offer important nutrients, and help you shed pounds.
More >>

Eat your greens: Swiss chard
Swiss chard is the Rodney Dangerfield of greens — it don't get no respect. Or at least, not the kind of respect it deserves.
More >>

5 foods you haven't fried yet
Check out these five foods that have made fried strides, from the reasonably healthy-ish to the downright decadent.
More >>

Preserve the season with key lime curd
Bright, floral key lime juice is a perfect foil for the custardy heft of a classic British-style citrus curd.
More >>

Basil: The perfect summer herb
Basil is the quintessential garden plant -- equally happy to sprawl out over the expanse of a walled-in plot or flourish in a box on the window sill.
More >>

How to kick the sugar habit
Americans are still eating and drinking two or three times the amount of sugar recommended for optimal health.

More >>

6 shortcuts for 6 summer recipes
You don't want to be stuck in a steamy kitchen on a hot summer day. So how can you get dinner on the patio table faster?
More >>

Party out back: East Coast vs. West Coast grilling
From the fresh flavors of California to old-fashioned East Coast burgers, American backyard grilling is our favorite tradition, coast to coast.

More >>

Secrets of the grill: Corn
Grilling gives corn a nutty taste that makes each ear perfect for flavored compound butters, sauces, and glazes.

More >>

Softshell crabs
Softshell crabs are one of those culinary delights that are virtually impossible to find at any time of year except their designated season.
More >>

How to cook on a grill
For successful grilling, two techniques are essential -- direct grilling and indirect grilling.

More >>

Scallions: The onion's kinder cousin
Native to central Asia, scallions are at once crisp and tender, cooling and hot -- perhaps that's why they travel so seamlessly between salads, soups and main dishes.

More >>

Hack your way to dinner with these apps that make sense of your fridge
"What's for dinner?" is a question as old as time itself – and it's one of the most frustrating. Now, technology has an answer.
More >>

Pizza: The gold of Naples
In the birthplace of the world's favorite food, the best pizza comes down to the basics.
More >>

Mustard: Much more than a condiment
The tiny seed can be toasted and used whole, tossed into a jar of fermenting pickles, ground into a powder, or crushed and mixed with vinegar to form the familiar condiment that we spread onto sandwiches.

More >>

Travel guide: Houston
Chef Chris Shepherd gives his take on what to eat, where to go, and what to do in his city, from family-run dim sum and BBQ joints to a pristine local farm.
More >>

Pizza on Mars: NASA funds development of 3D printer that can knock out pizza
NASA has awarded a mechanical engineer a grant worth $125,000 to help him create a 3D printer for food.
More >>

Asparagus and the bright green of spring
Asparagus is one of the spring season's most celebrated vegetables.
More >>

Do food expiration dates matter?
Instead of looking at the calendar, simply follow your eyes and nose.
More >>

Good and steamed: California's steam beer
The curious soul of San Francisco's steam beer -- brilliantly clear, deep amber in color, and capped by a bone-white head of foam.
More >>

Wild oats
The humble, hearty oat deserves a closer look.
More >>

Sweet sharpness: All things garlic
Garlic has an almost mystical quality.
More >>

10 kitchen gadgets you probably don't need
There are many kitchen gadgets out there that claim to make your life simpler, but there might already be something in your kitchen that can do the same job.
More >>

New Orleans: Eating in the Big Easy
The best dishes, grandest places, and most colorful culinary history. The heritage of Big Easy dining is alive, well, and thriving.
More >>

Eggs recipes: Simple, versatile, delicious
Perfect for breakfast, lunch, dinner or dessert, the egg is one of nature's perfect foods.
More >>

Could fried food be healthy?
Wish you could enjoy fried food, without feeling guilty? Go ahead! A recent Spanish study found it might not be all that bad for you after all.
More >>

The history of Easter candy
A basket full of sugary factory-made treats has become a beloved American tradition.
More >>

Maple syrup magic
Maple syrup is delicious in just about everything.

More >>

The history of the donut
From European festival food to blue-collar American breakfast, our nation's favorite sweet has taken on many forms throughout its history.
More >>

A guide to the oyster regions of Virginia
Virginia is now once again a place that raises many happy oysters.
More >>

How to eat to lose weight
Although 93 percent of adults agree that a morning meal is an important part of a healthy diet, more than half of us don't practice what we preach.
More >>

Mushrooms: More than just morels
Many beloved varieties of mushrooms prefer warm and wet weather, making mid-summer and early autumn the best time for picking wild mushrooms. But, for those who cannot wait, there are morels.
More >>

When life gives you lemons
There's no better way to enlighten a pan of root vegetables, brighten a simmering pot of lentils, or add a layer of citrusy flavor to roast chicken than with a squeeze of lemon juice or a dusting of finely grated zest.
More >>

Which chocolate makes the best pudding?
You might be surprised which chocolate made the best pudding in this test kitchen.
More >>

Classic get-well foods
In Victorian-era cookbooks, "invalid cookery" — recipes designed for the ill and unwell — laid a foundation for healing at home.
More >>

In praise of wing tips
Making wings? Save some love for those often overlooked wing tips.
More >>

White chocolate: Beyond the pale
No matter how many great desserts it has been responsible for, white chocolate still bears a stigma.
More >>

Wild about walnuts
In the kitchen, walnuts are an eminently useful and versatile staple.
More >>

The power of pepper
Celebrate pepper's full-bodied heat with recipes that put the world's most useful seasoning into the spotlight.
More >>

Easy ways to lower your food bills
A normally organized refrigerator can quickly become a maze of food items and stuffed shelves. But here's a good incentive to get your fridge under control: Saving money.
More >>

Cream rises to the top: Savory and sweet cream recipes
During this hunker-down, fatten-up season when our hibernation instincts kick-in, indulging in heavy cream seems almost biologically justified.
More >>

Top 10 processed foods to avoid
The first step to creating a healthier diet is to find out which processed foods are the worst for you. The following are some of the top processed foods to avoid.
More >>

7 foods you can only get in Wisconsin
For one Madison, Wis., native, a visit home always evokes a sort of a happy anxiety—so much to eat, so little time.
More >>

7 dinner ideas that take 30 minutes or less
Along with taking less time to make, these recipes can also help you clean out your fridge.
More >>

Sweet on sweet potatoes
Whatever varieties you like, and however you prepare them, now is the time to take full advantage of the sweet potato's full range.
More >>

One good find: Surryano Ham
Old world cured ham, American-style .
More >>

Peppermint bark recipes
Bring this sweet treat to a holiday potluck or party, and just smile enigmatically when the other guests assume you spent hours over the stove.
More >>

Change your mind about fruitcake
This sophisticated take on the classic Christmas fruitcake is far from a punchline. Sweet, spiced, and dense, with a bright rum glaze, it's a perfect holiday treat for giving as a gift — or for keeping to yourself.
More >>

A thoroughly modern latke
It may not be traditional, but if you like a crispy, golden-brown exterior and a soft, fluffy interior, this latke is for you.

More >>

Learning to love eggnog
You need to start this recipe the day before you plan on serving it, but it's well worth the wait.
More >>