Welcome one, welcome all: Tucker's Restaurant
Tucker's Restaurant, a Cincinnati institution since 1946, serves up more than comfort food
More >>

10 Vietnamese noodle dishes just as good as pho
Chef Leah Cohen of Manhattan's Pig and Khao spent weeks chasing the best noodle dishes in Vietnam. Here, she shares her ten favorites.
More >>
Where to visit in Richmond, Virginia
Ten don't-miss spots in the historic city.
More >>

Set Ups: New Orleans' low-key, DIY bottle service
Why the Crescent City's best cocktails are those you make yourself.
More >>

New survey compares America's cooking habits to the rest of the world
The joy of cooking may cross international borders, but for certain countries more so than others, a new study finds.
More >>

Pastry renaissance
How three visionary pastry chefs, from London to Portland, are reinventing the baked good.
More >>

Lots of leafy greens might shield aging brains
A single serving of leafy green vegetables each day may help keep dementia away, new research suggests.
More >>

Best of the Blue Ridge
On Virginia's mountain highway, the sky's the limit for homegrown eats.
More >>

Better eat your breakfast
The first meal of the day finally gets serious culinary consideration.
More >>

The history of Italian gnocchi
The story of Italy's most beloved dumpling.
More >>

Behind the recipe: Chocolate-raspberry babka
A classic Jewish bread, updated.
More >>

City guide: Miami
A critical look at the old and new in an ever-evolving Magic City.
More >>

The seven-minute egg
Author and blogger Molly Wizenberg finds the perfect egg for all ages.
More >>

Blades of glory
The Southeast Asian grass called pandan brings floral vivacity to all sorts of dishes.
More >>

Nuts may lengthen your life
Eating nuts, including peanuts and peanut butter, may help you live longer, a new study suggests.
More >>

Almond macaroons (with no missing ingredients)
According to one chef, sharing a recipe with one missing ingredient was a test, a foolproof gauge of whether or not you were paying attention.
More >>

Iconic eats: Louisiana
If you're traveling to Louisiana, don't miss out on any of these ten classic Louisiana specialties, from pillowy beignets to rustic, comforting gumbo.
More >>

Dining like a rhinestone cowboy
The history of Las Vegas can be told through its steakhouses.
More >>

7 guilt-free foods for your Valentine's Day dinner menu
On what's considered one of the most romantic days of the year, the last thing on your mind might be how healthy your food is. Fortunately, there are a few simple Valentine's Day food ideas that you can easily incorporate into your celebration, while also sticking to a healthy diet.
More >>

Valentine's Day appetizer recipes
Keep the love alive this Valentine's Day with special appetizers that are easy to make and delicious.
More >>

Persian roots
Parsi dishes are bold, balanced, and lavished with diverse spices.
More >>

The best homemade nachos are all about the sauce
At the Commodore in Brooklyn, N.Y., Stephen Tanner serves heaping plates of aptly-named Cadillac Nachos, laced with house-made queso sauce and three types of salsa. They're completely irresistible, and totally achievable at home.
More >>

Guide to horseradish
Check out these tips for buying, storing, and cooking fall horseradish, plus some favorite recipes for horseradish.
More >>

Nostalgia is an ingredient
First impressions count. Let them guide you in the kitchen.
More >>

Rediscover German food
With the 50th anniversary edition of Mimi Sheraton's seminal and still-relevant classic The German Cookbook, there's no better time to get (back) into German food.
More >>
Winter produce guide to citrus fruit
Tips for buying, storing, and cooking winter citrus, plus some favorite recipes for different citrus fruits.
More >>

7 good luck foods for the New Year
Read this list and start preparing dishes to make this year one of your best ever.
More >>

Creative hot chocolate recipes for winter
Whether you're longing for a classic mug of hot chocolate or something different, check out this list of hot chocolate recipes to enjoy this winter.
More >>

Christmas on the Coast
In Portuguese-inflected Goa, the most wonderful time of the year is a joyous blending of traditions.
More >>

How sweet it is
There's nothing wrong with a little sugar in your holiday wine.
More >>

Homemade for the holidays: Edible gifts
Check out this gallery of recipes that work beautifully as holiday presents or hostess gifts, from savory pickles and spice blends to candied fruit and sweet liqueurs.
More >>
Easy Hanukkah recipes
Help create warm and happy holiday memories by bringing the wonderful tastes of traditional, homemade Hanukkah foods to your table.
More >>

Whiskey aces
Six exceptional bottles worth seeking out this winter, for a gift or for yourself.

More >>

In praise of the White Russian
Check out these variations on the coffee, cream, and vodka drink you won't be ashamed to love.
More >>

Could a 'Mediterranean' diet extend your life?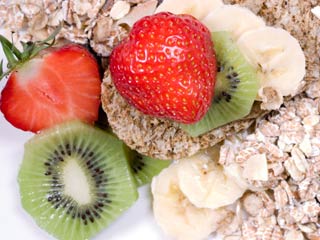 ©  


There are hints in a new study that eating the much-lauded Mediterranean diet may help boost longevity.
More >>

How to weave a lattice top for pies
Though it may look fancy, it's easy to quickly make a lattice top when you follow this simple weaving technique.
More >>

Forgotten coast: The Florida Panhandle
Among the pleasures of a scenic trip along the Florida Panhandle -- plump oysters, tender shrimp, crispy fried mullet, and classic Deep South dishes.
More >>

Calorie counts mandated at chain restaurants
New rules announced Tuesday by the U.S. Food and Drug Administration will have many restaurant chains posting calorie counts on their menus, and the rules even apply to movie theater popcorn and ice cream parlor fare.
More >>

Guide to preparing for Thanksgiving dinner
If you plan on hosting Thanksgiving dinner this year, make sure you're completely prepared by following this essential checklist for Thanksgiving dinner.
More >>

Lucky charm: Barmbrack
Traditional Irish harvest bread is full of surprises.
More >>

The world of garlic
Check out these 27 varieties of garlic to try in your home kitchen.

More >>

A goodly slice
Made from sweetened navy bean purée, this sweet potato-like pie boasts a silky, custardlike base spiced with nutmeg.

More >>

Save money on holiday meals
10 tips to host a delicious dinner without going into debt.
More >>
Holiday for the heroes
At Napa Valley's Bouchon Bistro, it's a Thanksgiving tradition to honor American veterans with an incomparable family meal.
More >>
Houston, we have turkey
An astrophysicist engineers the perfect bird, cooked in under an hour.

More >>

A taste of the past
A daughter comes to terms with her father through his childhood foods.

More >>

Devils on horseback
Usually, a dish by this name features prunes wrapped in bacon; when the oysters are swapped in, the "devils" become "angels." But whoever wrote this recipe knew these morsels were too diabolically delicious to be otherwise named.
More >>

Great mail-order pies
For your money, the best innovation in American baked goods since sliced bread might be mail-order pie: great regional wonders delivered directly to your doorstep.
More >>

Any given Sunday dinner
How an expatriate learned to love the roast, Australia's essential family meal.
More >>

Milk fed
Midwest dairies try something new -- with cheese.

More >>

Almost family
At a Louisiana restaurant, a father-son bond is celebrated and forged again.
More >>

Required eating
Bengali fish stew is more than just a dish -- it's tradition and ritual
More >>

DIY hard cider
This homemade hard cider combines the flavors of a crisp white wine with the warm scent of cloves, cinnamon, orange, and apple.
More >>

Season of plenty: China's mushroom harvest
From remote mountain forests to bustling urban markets, in China's Yunnan Province, mushrooms are foraged treasure.
More >>

Chocolate turtle power
A Massachusetts candymaker updates an American favorite.
More >>

Yogurt: Milk's finest hour
From decadent sweets and creamy condiments to the best marinade for tender grilled meats, yogurt's culinary potential is boundless.
More >>

Bold pie and ice cream pairings
Check out these 14 bold pie and ice cream pairings, from a strawberry lattice-top with basil gelato to a rich raspberry pie brightened by a scoop of creamy peach.
More >>

Two perfect days in Camden, Maine
Where to eat, what to do, and where to stay in this quaint, midcoast town.
More >>

Papa's favorite poison
Straight up, over ice, or frozen, daiquiris are just as good now as when Hemingway drank them. Of course, like many classics, the daiquiri is easy to make and easy to get wrong.
More >>

Art of antipasti
Is there a better way to start a meal than with an abundant antipasti platter, artfully arranged with ruffles of meat, cheese and vegetables?

More >>

A new twist on the Labor Day barbecue
Think Labor Day weekend is just another excuse for a barbecue? Try celebrating the last days of summer in an all new way.
More >>

Putting heat to meat
Among burger aficionados, no question is more hotly debated than that of which cooking method produces the tastiest results.
More >>

The love of tea
Wherever you are in India, you're never far from a tea vendor peddling chai, a sweet, milky tea, from trays of steaming glasses.
More >>

Cape Town's classic shake
This avocado-mint milkshake from South Africa makes a cooling summer treat.
More >>

Southern comfort, Indian-style
Crisp griddled dosas -- savory South Indian fried crepes -- pave the way for new friendships.

More >>

Fries: Belgium does them better
After a lifetime spent eating American-style french fries, a first taste of Belgian-style frites is a transformative experience.
More >>

How to rehydrate dried coconut
Nothing beats the satisfaction of cracking open a fresh coconut. But if fresh coconuts aren't readily available, check out this trick.
More >>

Fridge raid
Raiding the fridge for leftovers is a late night tradition.
More >>

Juicy Fruit: Mexico's prickly pear cactus fruits
In late summer in Mexico, prickly pear cactus fruits, or tunas, are everywhere—a refreshing snack eaten out of hand and a popular ingredient in candies, drinks, jams, and more.

More >>

Bad weather? Make a stovetop smoker
The rich flavors of smoked meat are closer than you think: all you need is a pot, foil, and a steamer insert to make a stovetop smoker.
More >>

Five essential tips for designing your kitchen
Here are some less traditional ways to think about kitchen design, whether your project is outfitting a rental kitchen in a tiny walk-up, or the kind of larger-scale remodel you dream about.
More >>

Maine's latest seafood star
Cold northern waters are providing some of the best oysters you're likely to taste.
More >>

4 perfect veggie burgers
These four veggie burgers are worthy occupants of any bun -- no faux-meat here, just fantastically delicious combinations of beans, vegetables, legumes, and grains.
More >>

8 barbecue party tips you need to know
Whether you're a first time planner, or seasoned professional, a barbecue is one of the most fun and exciting parties you can throw.
More >>

Summer juice smoothie recipes
Grab a blender and some ice this summer, and try your hand at making your own smoothies.
More >>

Fourth of July cookout recipes
Entice your guests with traditional American favorites and a few grilled surprises.
More >>

Berries made better: Macerating strawberries
The process called maceration softens fruit and imparts flavor, transforming even less-than-perfect berries and stone fruit into something worthy of dessert.
More >>

The many faces of ramen
As a Japanese fast food phenomenon, a budget meal solution, a hangover cure, and an upscale menu item, ramen has proven to be an infinitely variable dish.
More >>

A writer's beef
Ernest Hemingway's preferred hamburger recipe was a master work in its own right.
More >>

Ice cream cocktails -- a Wisconsin favorite
The Greenwood Supper Club in Fish Creek, Wis., mixes liquors with vanilla ice cream and whipped cream for classic takes on a grown-up sundae.
More >>
Hot country chicken
In Nashville, a piquant poultry dish has become a way of life.
More >>

Luscious layovers
Airports are upping their gastronomic game, giving food-minded travelers a reason to linger between flights. Check out this list of five great airports to eat in.
More >>

Becoming an oyster convert
The tasting room of Rappahannock River Oyster Co. in Topping, Va., turns an oyster agnostic into a full-fledged fiend.

More >>

A saucy dish: Tagliatelle Bolognese
At La Trattoria di Oscar in Bevagna, Italy, chef Filippo Artioli uses a beef and chicken stock to cook the pasta for his robust ragù, made with fat-rich beef.
More >>
Five great grilling recipes for summer dinners
By Alexandra Kerr Why not enjoy the sunny weather and cook dinner outside on the grill? Whether you love a good steak, pork chops or burger, or want your family to stay on the healthier side of dinner, try grilling one of these great summer dinner recipes. Blue Cheese Burgers A flavorful take on the classic burger, try this simple grill recipe for a burger both kids and adults will love. Depending on your choice of bun and meat, the blue cheese burger can be as delectable or healthy as ...
More >>

Hot dog facts: Pros and cons
Hot dogs are great any time, but sales of this particular food product tend to skyrocket in the summer when cookouts and barbecues are all the rage. Read on to find out more about the pros and cons of eating this popular, family-friendly treat.
More >>

Beyond tomatoes: Four great ketchup alternatives
Think ketchup starts and ends with tomatoes? Think again.
More >>

Late night tradition: Spaghettata
More than a late-night snack, it's an impromptu dinner party.
More >>

How to pan-fry fish
One of the simplest and most rewarding ways to prepare fish is to pan-fry a skin-on fillet. The method yields browned, crispy skin on the outside and flaky, moist meat inside, all in a matter of minutes. That is, if you do it properly.
More >>
Good nutrition for a beach-ready body
We all want to firm up those tummies before hitting the surf this summer, but there's much more to getting bikini-ready than just stopping by your favorite spin class three times a week.
More >>

May Day sweets: Sima and Tippaleipä
This funnel cake made from light and lemony batter is deep fried and dusted with powdered sugar for a sweet May Day treat. In Finland it's enjoyed alongside Sima, a fermented lemon soda.
More >>
Everyman's fish -- the tuna sandwich
One writer recounts his lifelong love for the tuna sandwich, the unsung hero of the American lunch.
More >>